The January 6th Committee made clear Trump's guilt and voted to issue a subpoena
Durham, the Barr stooge at DOJ , pushes another bogus case to distract from the Jan. 6th committee findings.
The January 6th Select Committee - in a powerful session yesterday - showed clearly why the unhinged, mutant wannabe tyrant Trump can never again be allowed near the levers of power. Among the mind -blowing revelations that have made every sentient American aware of the deadly danger of Trump:
- The Secret Service (and FBI) were aware of at least 25,000 Trump backers on Jan. 6, 2021, who refused to cross a magnetometer entry - given they were themselves laden with weapons including AR-15s. (Also revealed in the last hearing via radio communications between Capitol police officers).
- Alarming real time scenes of panicked congress reps in hiding as the violence erupted outside with Schumer and Pelosi on the phone with Dept. of Defense chief Chris Miller. They were begging him to send in the Maryland National Guard- since the existing 'commander-in -chief (Dotard) was too occupied watching the action on his wide screen TV.
- 30 Trump associates, including Roger Stone, Michael Flynn, John Eastman and others, took the 5th rather than implicate themselves and Trump in the planned coup.
- Videos of Steve Bannon, as well as Rudy Giuliani and others, showed the plan to hatch the coup was underway months in advance - as early as February, 2020, accomplished by announcing the bogus "win" before all ballots had been counted on the night of Nov. 8th, 2020. As Bannon put it on his podcast at the end of October, 2020:
"Possession is nine tenths of the law. And Trump will gain possession of the election by disregarding the votes and simply claiming he won!"
Thereby acknowledging the time sequence would work toward Trump's advantage given most Democratic voters would have voted by mail and those ballots take more time to count, to process. As Stephanie Ruhle put it in the MSNBC summary program last night: "Trump (and Bannon) preyed upon civic ignorance, in too many not knowing the voting process, to spread his lies."
The Chair of the Committee, Bennie Thompson, made clear what happened, saying:
"We have left no doubt – none – that Donald Trump led an effort to upend American democracy that directly resulted in the violence of January 6th. He tried to take away the voice of the American people in choosing their president and replace the will of the voters with his will to remain in power. He is the one person at the center of the story of what happened on January 6. So we want to hear from him."
And co-chair Liz Cheney was equally emphatic concerning Trump's central role in the insurrection;
"The vast weight of evidence presented so far has shown us that the central cause of January 6 was one man, Donald Trump, who many others followed. None of this would have happened without him. He was personally and substantially involved in all of it."
Meanwhile, the WSJ editorial hacks once again couldn't restrain themselves in the yen to deflect attention from the J6 hearings. This was via their warped editorial yesterday (The FBI's Million-Dollar Dossier, p. A18,) extolling Barr Puppet John Durham's case against Igo Danchenko. This is to do with his specious nonsense about an FBI-Hillary- Christopher Steele conspiracy against traitor Trump.
As Ari Melber pointed out (in the MSNBC J6 summation show), this was something former DOJ counsel Andrew Weissmann warned Special Counsel Robert Mueller about three years ago when he failed to subpoena Trump at the end of his investigation, e.g.
The "Chicken Shit" Theory Of Why Mueller Didn't Call Out Trump's Crimes Is The Best So Far.
But Mueller punted, enabling Barr to paint Trump as falsely being "exonerated" even when Mueller himself made clear his lack of an indictment could not be interpreted as an exoneration. But never mind, the Trumpers ran with it and thereby created the narrative of the "Russia hoax". The rest was predictable, as Trump vowing vengeance - used his AG flunky Barr to turn the department on the investigators, e.g.
The new gambit: Claiming key Russia probe data was 'made up' - The Washington Post
Excerpt:
Durham's thrust has become more clear. He apparently hopes to prove that Clinton's team intentionally deceived the government to impugn Trump with allegations of ties to Russia.
And:
Watch Out for Bill Barr's Flunky John Durham to Fabricate a Report That Would "Absolve" Russia of 2016 Election Interference
Durham already has bitten the dust with his first effort at indictment, going after Hillary lawyer Michael Sussmann, e.g.
As former NY prosecutor Danya Perry summed up the result in an appearance on ALL In:
"This entire case was a clunker right from the start and landed with a thud. Over three years- longer than Mueller's investigation - and only one trial with acquittal. There was never any there, there."
But fueled by Right wing desperation, $$$ and derangement, Durham continued his crusade, now against Igor Danchenko. As the WSJ nabobs wrote:
"Mr. Durham's witness Tuesday was FBI supervisory analyst Brian Auten, who interviewed Mr. Steele in early October 2016 with other agents. Mr. Auten admitted that at that meeting the FBI offered Mr. Steele "up to $1 million" to prove his explosive claims. But Mr. Auten said Steele never received the cash because Mr. Steele couldn't 'prove his allegations'....The failure of the million-dollar offer should have ended FBI confidence in the dossier. Yet on Oct. 21, 2016, the bureau made the dossier's allegations part of its application for a secret surveillance warrant against former Trump campaign official Carter Page.
FBI interviews of Mr. Danchenko in January 2017 cast further doubt on the dossier. Yet the FBI stayed mute about its failure to corroborate its claims—even as news about the dossier exploded into public view and disrupted the Trump Presidency"
This is total twaddle given Carter Page's surveillance warrant was necessitated by foreign intercepts of his 2016 interactions, conversations with GRU agents. No matter what Steele did or didn't state in his dossier (and I personally believe every aspect is valid given Trump's known character as a maggot) the foreign intercepts demanded the FBI act on Page.
As for Christopher Steele, in the WSJ Feb. 10, 2018 issue one letter writer (Aldion Urbank) courageously set the record straight after an earlier editorial smear of Steele:
"The FBI long regarded Mr. Steele as a valuable asset. He was fired after speaking to the press because of the public relations fallout, not because the FBI had lost confidence in him. He did so to prod authorities into moving faster on the information he provided. Mr. Steele was no Clinton partisan but seemed genuinely alarmed at the prospect of a Trump presidency for obvious security reasons.
America owes him a debt of gratitude instead of the calumny being heaped upon him."
But the country owes Durham no debt of gratitude, only a hefty lump of coal, despite the WSJ Steele calumniators babbling:
"Mr. Durham is using these prosecutions to disclose to the public what really happened. It's a disgraceful episode in FBI history that rivals the worst of the J. Edgar Hoover era. Win or lose in court, the special counsel is doing a public service."
No, it's not a "public service" it's a damned waste of time and taxpayers' money. What IS a disgrace is keeping this judicial clown show going, while the actual national abomination (an autocratic - fascist coup attempt) is being exposed by the January 6th House Select Committee.
But the WSJ's rank codswallop is understandable given the Committee has been beating their brains six ways from Sunday with the exposure of the actual seditious conspiracy by Trump and his renegades, resulting in the violent insurrection of Jan. 6, 2021. Yesterday's Select Committee session continued to hang the orange maggot revealing the multiple dimensions of his intent to overthrow the 2020 election, e..g.
For me the slam dunk event that proved Durham's "investigation" as worthless occurred when his then top aid Nora Dannehy resigned.
Recall here that The Hartford Courant originally reported that Ms. Dannehy resigned because of improper pressure from the (then Barr) DOJ to produce a report on the investigators. But as I noted in my earlier post, perhaps this showed Ms. Dannehy possessed a genuine moral compass enabling her to see that such a bogus probe into the justified investigation of Trump would only result in a travesty of justice.
See Also:
Excerpt:
21 experts sketched chillingly plausible chains of potential actions and reactions that could unravel the nation. "I think it would be the end of the republic," says Princeton University professor Sean Wilentz, one of the historians President Biden consulted in August about America's teetering democracy. "It would be a kind of overthrow from within. …
And:
by Brandon Gage | October 24, 2022 - 6:25am | permalink
And:
by Joan McCarter | October 15, 2022 - 7:22am | permalink
Excerpt:
An extensive analysis of Republican candidates, challengers and incumbents alike, by The New York Times buttresses the findings from The Washington Post earlier this month: The majority of Republicans running for key statewide offices have embraced the Big Lie. The Republican Party is now the Trump party, and has abandoned any pretense at all of being small-d democratic.
And:
by Heather Digby Parton | June 2, 2022 - 7:26am | permalink
And:
by Amanda Marcotte | October 14, 2022 - 8:00am | permalink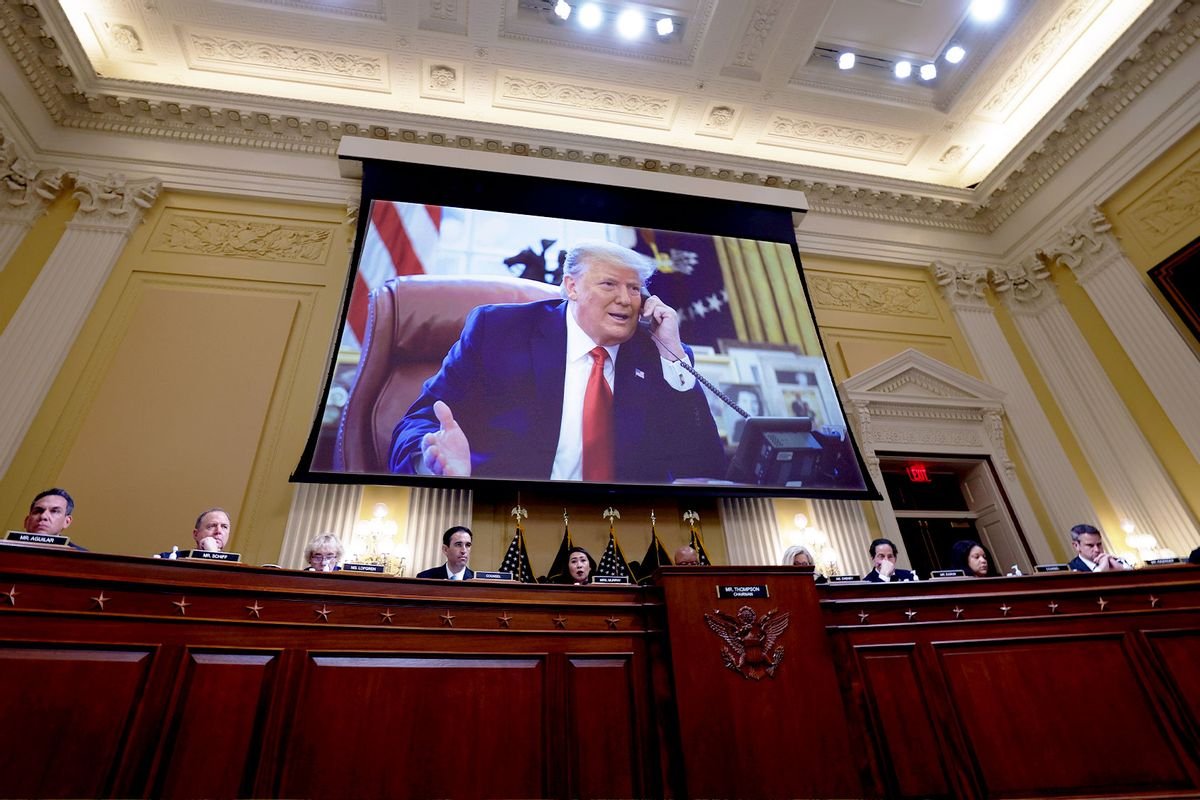 Excerpt:
"Our nation cannot only punish the foot soldiers who stormed our Capitol. Those who planned to overturn our election, and brought us to the point of violence, must also be accountable."
In her opening statement of the final hearing of the last House Jan. 6 committee before the midterms — and perhaps the last one, period — Rep. Liz Cheney, the no-longer-exactly-Republican congresswoman from Wyoming, laid out the stakes. Donald Trump was "the central cause of Jan. 6," she said, not just the inspiration.
Over the next couple of hours, the committee carefully painted a picture of Trump as a conductor who brought many different forces together and forged an insurrection.
And:
Opinion | Biden's Justice Department Should Not Be Pursuing Trump's Political Vendetta - POLITICO
And:
How Durham's Sussmann Investigation (And Show Trial) Feeds The Lie About The "Russia Hoax"
And:
Is John Durham Deliberately Stoking Right-Wing Conspiracy Theories? – Mother Jones
Excerpt:
Special counsel John Durham's investigation of the origins of the Trump-Russia scandal has turned into a conspiracy-theory-generating machine for feverish right-wingers. And his latest filing raises the question of whether that is by design.