Stewart making a lame case for the lab leak bunkum while Stephen Colbert tries to inject reason and sanity.
"If it weren't for conservative pressure, there would probably be no substantive media interest the "lab leak" hypothesis. Typically, news outlets are loathed to publish speculation that emerges from fringe conspiracy theory boards that have offered little in the way of real evidence for their claims. But when the conspiracy theorists are politically motivated right-wingers, they tend to get more of a media hearing than say, Bigfoot enthusiasts." - Amanda Marcotte, 'The Media Is Being Duped By Republicans On The Lab Leak Theory', Salon.com
Jon Stewart used to be a respectable and important figure at the juncture where politics and pop culture converge. We watched his Comedy Central "The Daily Show" often, and were impressed by his keen wit, spot -on perspectives and ability to articulate complex policy issues. That appreciation dissolved after seeing him go on an extended rant on "The Late Show with Stephen Colbert" about the coronavirus lab leak theory. It showed us he had, alas, imbibed the kool aid about this propaganda garbage and hence had lost his once sterling perception and rationality, when he blathered:
"I think we owe a great debt of gratitude to science. Science has, in many ways, helped ease the suffering of this pandemic, which was more than likely caused by science. There's a novel respiratory coronavirus overtaking Wuhan, China. What do we do? Oh, you know who we could ask? The Wuhan novel respiratory coronavirus lab. The disease is the same name as the lab. That's just a little too weird."
At that point I told Janice that Stewart had either turned Trumper Zombie or totally lost his marbles. Did he even remotely recognize he was providing fodder for the FOX trolls? Did he even care? This turkey was so immersed in his own delirious rant zone he probably didn't even grasp the level of garbage he was spewing, like comparing the Covid 19 outbreak to "an outbreak of choclatey goodness near Hershey, Pennsylvania."
As I pointed out in my June 1st post, this misbegotten lab leak claptrap was created by the Right's media trolls because it conveniently shifts blame for the Covid-19 tragedy to China and specifically its virology lab in Wuhan. Hence, it provides backhand justification for Trump's endless parroting of the "Wuhan virus" or "China virus". Reckless rhetoric that has arguably led to the horrific attacks on Asian Americans in this country. As blogger Amanda Marcotte also put it in a recent post:
"Led by Matt Yglesias from his (sigh) Substack blog, a narrative started to form in May that the mainstream media was deliberately ignoring a scientifically valid hypothesis because of a, heaven help us, bias against conservatives. Otherwise reputable opinion writers like Jonathan Chait of New York, eager to demonstrate that they are Not Biased© and Care About Hearing All Sides©, took up the mantle, scolding the mainstream press for supposedly dismissing the "lab leak hypothesis" out of hand, simply because Donald Trump and Sen. Tom Cotton, R-Ark., were fond of it."
It therefore appears likely that Stewart ingested Chait's effort at bogus fairness and decided to jump on the lab leak bandwagon, leading him to spout the drivel he did on Colbert's show. No wonder also that in the wake of his rant Stewart would be extolled by the trolls at FOX News, like Greg Gutfield, who blabbered:
"I think the big revelation here is that Jon Stewart watches Fox News! Because this is exactly what we've been saying at this table for a while. And it makes sense, he's now in our age group, where the wisdom kicks in,"
For his part, Colbert was taken aback by Stewart's embrace of what has mostly existed as a right-wing conspiracy theory. At one point asking his friend, "And how long have you worked for Sen. Ron Johnson?"
Good point!
To be sure, Stewart has every right to go on as many talk shows as he wants and explain his 'lab leak' nonsense. But his attack on expertise is a reminder why expertise is important. Let's be clear - as I learned while volunteering at All Experts- that the world is full of amateurs who think they've stumbled across some piece of information or logical connection that the people who know a lot more about the subject at hand have missed. See e.g.
And we know there are several thousand unpublished manuscripts titled "Einstein Was Wrong About Relativity" stored on the home computers of people with no formal training in physics. This has been a crusade of mine for some time e.g.
As well as taking down the jokers - including from the Intertel high IQ society, who've never taken a semester of college physics yet feel they can opine on global warming- climate change, e.g.
And:
As for Stewart, rather than steeping his brain in FOX-ite and conservo mind rot and balderdash, I recommend grabbing a serious antidote: Laurie Garrett's book, The Coming Plague, e.g.
As science educator Rebecca Watson explained in a video responding to the controversy last week, "There is currently no evidence that COVID-19 originated in a lab. None."
Take that to heart, Jon, instead of filling your mind with Right Wing toxic hog swill.
See Also:
by Amanda Marcotte | July 10, 2021 - 7:37am | permalink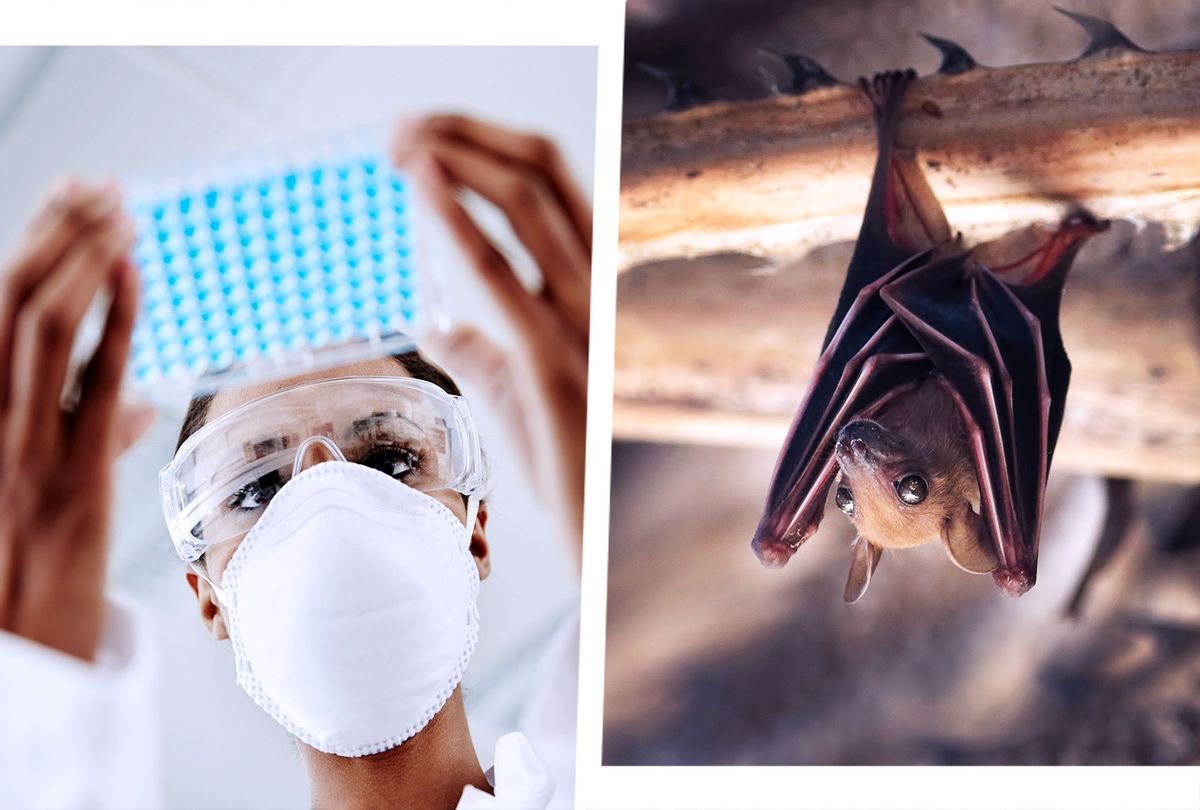 Excerpt:
Here's most important thing to understand about the idea that COVID-19 originated in a Chinese lab: It's not very likely, and most of the science still points toward natural origins, meaning random transmission from an animal species. As with Saddam Hussein's mythical "weapons of mass destruction," which led to the Iraq War, evidence for the "lab leak" theory is mostly right-wing wishful thinking, tied to a couple of thin pieces of not-really-evidence, and held together with the duct tape of speculation. Meanwhile, evidence for a natural origin, while far from complete, is scientifically sound and fits with everything that's currently known about the evolution of coronaviruses.
AND: