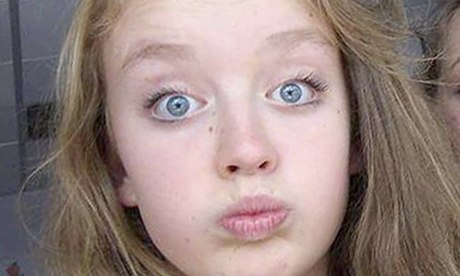 Izzy Dix (top) and Grace McComas, took their own lives when bullying overwhelmed them
.
Even as we mourn the death last night of Claire Davis, brutally murdered at Arapaho High School by a deranged classmate on a rampage with a shotgun, it is well to bear in mind all the other deaths from bullies. In the past two years, dozens of young women have taken their own lives because the bullying directed at them became so vicious or persistent they could find no way out.
So we are clear, Claire wasn't bullied so far as we know, and the details of the killing are still being looked into. As far as we can tell, Claire was simply in the wrong place at the wrong time, as a senior (Karl Pierson) at her high school barged into the school hallway armed with a shotgun and Molotov cocktails. He was angry and looking for a debate coach with whom he wished to settle a score. He fired a blast that struck Claire in the face at point blank range and sent her into a coma nearly a week ago. Friends and family prayed that she'd come out of it - but that didn't happen.
Claire clearly had everything to live for, as her young life was snuffed out by another nut with a weapon. (Which he purchased some time before the shooting.) But the paradox here is how other young women with much to live for, would be coerced to take their own lives - often by hanging themselves into unconsciousness and suffocation. What gives?
Consider the case of 14 year old Izzy Dix shown in the top image. Izzy possessed an IQ at the Mensa level or above and had entered Brixham Community College in Devon, Great Britain with a goal to attend Oxford. Her fellow students, older than her and who ought to have been the grown ups - instead acted like the bratskies out of 'Mean Girls', belittling her smarts, her accent (Australian) as well as her clothes.
Izzy sent a text to her mother, Gabbi, the day of her death asking for a long talk. She went home and they had it, but sometime later (after an argument- in which Gabbi apparently told her to 'man up') Gabbi found the door of her room blocked and after she pushed it open, Izzy was seen hanging by her school tie. The bullies at Brixham had driven her to such desperation she became her own executioner.
Then there was 16 -year old Grace McComas who became the victim of incessant online cyber-bullying last year. Grace was troubled by the words and actions of an older classmate who lived in her Columbia, Maryland neighborhood and often walked home with her from the bus stop. Grace expressed her concerns to her mother, who in turn – with Grace's approval – relayed the information to the parents of her classmate. Soon after, the classmate took to Twitter to publicize his anger. Grace was a snitch, and he wanted the world to know:
… Next time my name rolls off your tongue, choke on it.. and DIE …
… i hope you somehow see this and cry yourself to sleep then kill yourself …
Initially, Grace's mom told her daughter to just ignore the electronic vitriol. She advised her to let his frustration run its course. But the endless tweets begat real-world gossip at school, and the typed attacks only intensified. According to her mom, Grace stopped being Grace. She said:
"It took its toll, it damaged her. She kept her humor. She got anxious, she couldn't sleep, she couldn't eat. She got to the point where she wouldn't go outside"
In the end, seeing no way out of her nightmare world, Grace - like Izzy - took her own life on Easter Sunday last year
Which is more hideous: the violent, unforeseen death of Claire Davis by a maniac classmate, or the premeditated suicides of girls who were incessantly bullied by sociopathic classmates? It's basically a fool's errand to try to answer such a question. Taken in their respective contexts each death is horrific and so wasteful.
What we as a society have to do is seek to eliminate the causes for both. No student should have to feel he or she might be "in the wrong place" in their own school - which ought to be the ultimate sanctuary - at least next to their homes. And no student at any school ought to feel their options re so limited, in the face of classmates' taunts or cyber-taunts, threats that they have no recourse than to take their own lives.