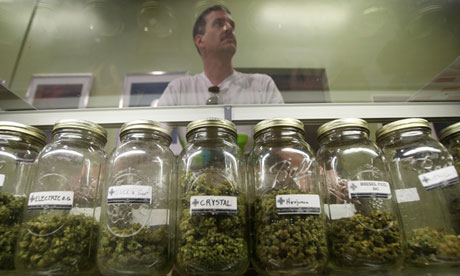 A retail store in the Denver area gets ready to open for business January 1st
.
Well, the news is out that the first licenses in the United States that permit retailers to sell marijuana for recreational use from 1 January were issued in Colorado yesterday. Owners of marijuana (MJ) dispensaries lined up to collect the permits in Denver and an initial batch of 42 licenses were issued, most to growers but around a dozen to shops.
Colorado already licenses more than 500 medical marijuana dispensaries, and only those outlets may apply to sell it for recreational use. State authorities have already approved 348 recreational sale licenses but businesses also require a local license, the first of which were those issued in Denver on Friday. Meanwhile, a festive atmosphere imbued the normally staid city licensing office in Denver on Friday. Justin Jones of
Dank Colorado
in Denver picked up his grower's and retailer's licenses for recreational pot on Friday to add to his newly-acquired state license in readiness for expanding his medical business for recreational purchases on January 1st.
The good thing about the new law - approved under Amendment 64 last year- is that Colo. residents can smoke weed in their own domiciles even if their particular county (like mine, El Paso County) has prohibited the selling in retail stores. One can also drive provided that one's blood doesn't exceed a limit of 5 nanograms of the active ingredient in cannabis,
THC
, while operating the vehicle.
At the same time, Colorado's Marijuana Enforcement Division spokeswoman Julie Postlethwait explained that the laws
do not permit consumption of marijuana in public
in any form nor on the premises of dispensaries in California-style pot cafes. As she related to the media:
"
You buy it and take it to your private property to consume
."
NOW - the bad news is that the law hasn't changed a thing in regard to how state employers deal with workers who smoke MJ. If they therefore catch you with even a smidgeon of THC in a random drug test - you can be fired on the spot. Also, this means that they are in control of your MJ smoking habits
whether on the job or OFF
.
In other words, let's get it clear - if you are gainfully employed you still don't have the freedom to puff weed during off work hours, because any given positive drug test (say the next day) can allow your employer to fire you.
The conclusion, harsh as it is: The only citizens possessing the genuine freedom to partake of the new law will be those who are unemployed. The downside is that they won't be able to afford the product, at $200 an ounce.
Yeppers, life is indeed a bitch!