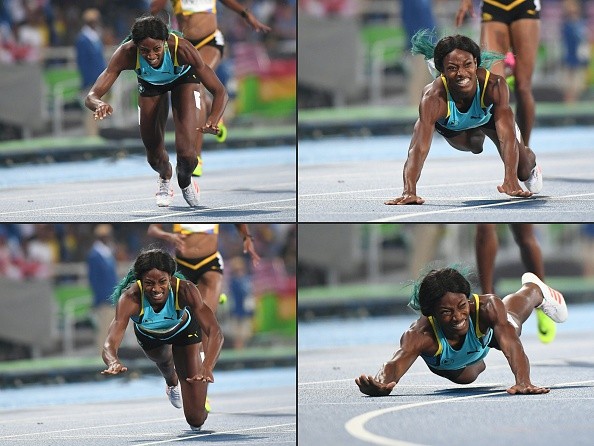 We watched fixated on the screen as the women's 200m race began. Everyone expected U.S. hotshot Allyson Felix to leave the field in her dust. But a young Bahamian, Shaunae Miller, burst forth at the start gun and actually led Felix and the others. Running nearly blind from far outside in lane seven, Miller forged a substantial lead entering the final 100 meters, but then began to tire. Felix, 30, cut into Miller's lead and appeared ready to win at the line, when Miller seemed to throw her body across the finish line. Both athletes lay on the ground for 15 seconds until the scoreboard showed that Miller had won the race with an official time of 49.44 seconds and that Felix had finished second in 49.51 seconds.
The outcome was dramatic and visually stunning. But it was immediately branded as "controversial" on many social media forums. This is not uncommon at the Olympic Games, where a wide audience is exposed to the quirks of sports that they don't often consume. But in this case, in the controversial aftermath - as so often evinced with the Twitterati- veered into the ugliness with suggestions that Miller's dive was unfair or unethical. That, too, has engendered blowback.
One of our favorite announcers, Trinidadian and 4-time Olympic sprint medalist Ato Bolden didn't mince words when he told SI.com:
"
It has pissed me off greatly to see people saying it wasn't ethical or that it was a cheap move, I'm trying to stay off social media about it because I'll go off. Diving happens all the time, and it just feels like Americans are pissed because Allyson lost. No one is a bigger Allyson fan [than I am], but she lost. Live with
it
."
Ato nailed this fell attitude of an always winning expectation and I will deal with this later
Miller also ripped into ignorant Americans calling her a "cheater" and blissfully unaware to the fact that diving is part of the sport, noting in an ABC spot, when she put it "
diving is done all the time
". More critically, as she also pointed out, owing to her fast initial burst out ahead of Felix and the field, her legs gave out near the end, feeling like lead stumps and making her realize she had to end the race via dive. So her dive was partly intentional, part happenstance.
Americans' eruption at the Miller dive to win the 200m gold wasn't the first act of winning entitlement. Earlier the U.S. women's soccer team in a tough loss were eliminated by Sweden. The Swedes using a cautious game plan played the more aggressive U.S. women to a 1-1 draw then beat them in a penalty shootout, 4-2. U.S. goalie Hope Solo didn't take kindly to the humiliation, bellyaching that: "
We played a creative game. We had many opportunities on goal. We showed a lot of heart. We came back from a goal down. I'm very proud of this team.....but we played a bunch of cowards. The best team did not win today.
'"
Of course, this is just whining and sour grapes. The Swedes played a smart game to their strengths, passive defense, rather than playing to U.S. strength by aggressively trying to score. The grand irony? The Swedish team was coached by former U.S. head coach Pia Sundlage who exactly knew what was needed to overcome her former team. And as she remarked in the aftermath:
"
According to Hope Solo I think you should define what is a good team. Well, with the Americans a good team is usually when they're winning. And they're winning all the time but for once they didn't go the whole way through
."
Which indicates that one can be a dominant winner and better than one's opponent but unless one learns to lose gracefully, it's merely an exercise in egoism. Because there may come a time when even a superior team on paper is vanquished. That's what happened to Solo ("Zika!" girl) and the U.S. and what they can't swallow.
A lot of this I attribute to NBC with its "all Americans all the time" emphasis on televising the games. As a piece in today's NY Times put it (
'NBC Coverage Doesn't Stray From Home'
, p. B10):
"
It's easy for NBC to justify its extreme coverage of American exceptionalism, especially when the gymnasts and swimmers of the United
States have done so well..."
Indeed, but this sort of hyper-emphasis contributes to the misbegotten belief among American viewers that they are entitled to win everything - so when they do lose (especially when they were projected to win) it comes as a psychological shock. That is when we also see the juvenile outbursts and blowback.
One thing at least even the Americans recognized is they weren't going to overturn Usain Bolt in the 200m or the 4 x 100 relay. In the latter, it was clear the superior team had to be Jamaica's and the U.S. which initially came in 3rd for bronze then had to give that up too. Evidently, they botched the baton handoff, doing it prematurely before leaving the 2nd zone.
At least NBC covered that properly and the reasons for the loss.
What may be remembered and talked about most after these games end? Likely, Ryan Lochte's frat boy antics with his younger swim bros in Rio. That is, smashing property at a gas station and pissing all over the walls then lying about it. As one
USA Today
columnist noted, the shelf life for Olympic stars who get into trouble is short, and Lochte just "fell off the shelf". But hey, maybe he can forge a new career doing ballistics tests for future NOVA specials on the JFK assassination!