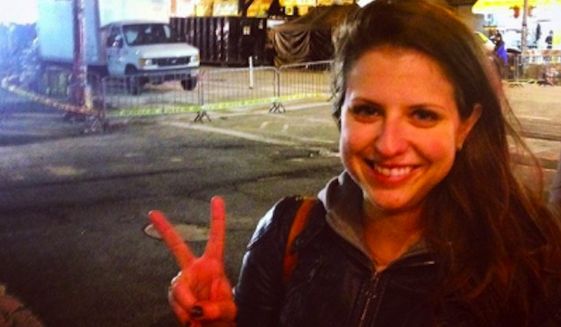 Christina Freundlich flashes the 60s Peace Sign in front of the site of a NYC fire that killed two.
Freundlich said in March when this first blew up (and she caught plenty of flak), that she was "deeply sorry" for the "careless and distasteful" photo she posted on Instagram that showed her flashing a peace sign with the caption, "
Scene of the accident
." Just behind her the East Village scene could be seen cordoned off after the inferno.
She
should be
"deeply sorry" given her crass photo was the epitome of ghoulish, ghastly behavior. The self-inflation via selfie after others perished itself inviting bad karma by insinuating one's image into a death scene. No person of sound judgment would take such a heinous image, and the fact she is supposed to now to be "Southern Regional Press Secretary" for the DNC (according to her Twitter page) calls the DNC's own judgment into question.
According to one Pew Research study, the Millennials are supposed to be the primary selfie takers and aficionados. This may be a sign that they are having a difficult time growing up and becoming more self-aware, or it could be they are too caught up doing what their peers are doing. Whatever the case, including being too addicted to Instagram, they need to attend to the memo that you do not take selfies at disaster scenes. Especially smiling selfies in front of where people lost their lives.