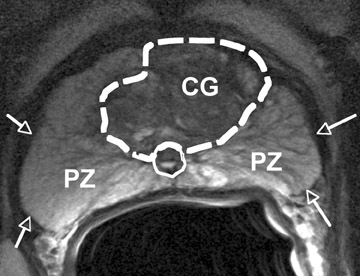 MRI scan (not mine) with possible hot spots, lesions.
As noted in earlier posts, if prostate cancer returned I'd have to reconsider getting any kind of "retreatments" or salvage treatments, see e.g.
http://brane-space.blogspot.com/2014/01/rising-psa-after-radiation-therapy-dont.html
Well, that time is now upon me as I finally received the MRI scan report (still no scan images themselves) but the results were definitely not encouraging. Adopting the PI-RADs MRI imaging scale the report noted 4 lesions ranging in size from 7 mm to 12 mm (almost a half inch across) with a PI-RADS score of category 4.
According to the
Radiopaedia
site:
"PI-RADS
(
Prostate Imaging Reporting and Data System)
refers to a structured reporting scheme for evaluating the prostate for
prostate cancer
. It is designed to be used in a pre-therapy patient.The original PI-RADS score was annotated, revised and published as the second version,
PI-RADSv2
by a steering committee with the joint efforts of ACR, ESUR, and AdMeTech Foundation.
The score is assessed on prostate MRI. Images are obtained using a multi-parametric technique including T2 weighted images, a dynamic contrast study (DCE) and DWI. If DCE or DWI are insufficient for interpretation the newest guidelines recommend omitting them in the scoring. (DCE =
dynamic contrast enhanced
imaging, and DWI =
diffusion weighted imaging
.)
.
A score is given according to each variable. The scale is based on a score from 1 to 5 (which is given for each lesion), with 1 being most probably benign and 5 being highly suspicious of malignancy:
-------------------
The primary benefit then is to standardize the acquisition of MRI images and reporting. On account of the behavior of water molecules in and around tumors, density changes and so-called "restricted diffusions areas" can be observed, and these are generally associated with possible malignancies. So, in effect, I have four "lesions" for which "clinically significant cancer" is likely to be present. That means all are probably malignant as inferred from confined "diffusion" regions with which they are associated.
This then has incepted the next step, recommended by my oncologist at UCSF (where I received the original treatment), e.g.
http://brane-space.blogspot.com/2012/09/thge-longest-dayand-then-some.html
That is, obtaining an MRI fusion guided biopsy, e.g.
https://health.clevelandclinic.org/2014/09/fusion-guided-biopsy-a-smarter-way-to-look-for-prostate-cancer/
This will then limit the needle insertion (and extraction of tissue) to the four suspicious areas noted in the MRI as opposed to "shooting in the dark" with 12 random stabs in the standard needle biopsy. Fortunately, a phone call to the local Urological Associates has determined that they can do it - likely not too long after a mid-August appointment with the urologist. (This was after my primary doc twisted my arm to accept her specialist referral even after I complained I would accept no further treatment),

It was clear from talking with her that as an alpha female physician she was having no part in any "surrender" to cancer. At the very least then, I'd have to be referred to a specialist to whom I could raise my arguments.

And to me they are solid ones. As I told a Nurse Practitioner from UCSF who called me about getting the MRI biopsy, then suggested a further brachytherapy "re-treatment", I really did not want to endure a lot of horrific side effects. If I had five years left I didn't want to spend them in misery but with some degree of life quality so I preferred quality of life over quantity. She thanked me for my honesty but said I should still consider alternatives - even if some of the initial effects may not be so nice.

In one paper by UCSF oncologists the conclusion speaks of radio-recurrent control of disease by two years after brachytherapy salvage, but with "Class III genito-urinary toxicity three years later". In other words, you will have the cancer under control but soon have to deal with likely urinary and fecal incontinence (meaning wearing large, absorbent diapers) as well as possible rectal fistulas, plus impotence, penile shrinkage, possible urethral stricture and need for intermittent "urethral dilation" (i.e. they will occasionally have to insert a tube into your penis to clear out the "sloughing skin" or other blockage.)

Even the most 'nominal' salvage treatment - ADT or androgen deprivation therapy'. - carries devastating side effects including: memory loss, impotence, increased cardiac and stroke risk, enhanced diabetes risk (metabolic syndrome), depression, hot flashes, breast enlargement, and emotional volatility.

Faced with such potential long term infirmities from the assorted treatments, say possibly lasting the final three of your last five years on Earth, any patient must have the right to say 'No!' Thereby expressing his own voice and making it clear that adding more years just to live longer is not an option desired if that means years of aggravation, pain and humiliation at the end. This is an acknowledgement that the medical industrial complex will always have as its first priority "saving" you from whatever disease - never mind the "cure" may be much worse. But this is actually why our medical costs are exploding because too many opt for life at any cost.

After those MRI biopsy results come back- in late August or mid-September- I will then have to finally decide whether it is worth it to get any further "salvage treatment". My first inclination - on seeing all the side effects - has been to turn all down but that really nice nurse practitioner at UCSF, who phoned me three days ago, has me at least reconsidering brachytherapy retreatment. I am also considering another alternative called cyberknife.

Hopefully, the biopsy will show tumors with too low a grade (e.g. T1c) and Gleason score to worry about - making a decision to refuse treatment logical and justified. But we will see.

As one prostate cancer survivor site observes, every choice made has its own consequences and the state of cancer treatments (including prostate), is actually much more iffy and less successful than many specialists would have you believe. In the end, one must make the best choice he can and be prepared to live with it.